WELCOME TO ZOORFEXPO 2023

Do you want your company to be known in all of Scandinavia?
ZoorfExpo is the largest trade fair for the pet industry in Scandinavia. It has been run bi-annual for the last 22 years. The best suppliers, manufacturers and wholesalers gather here to meet the pet trade. The fair is held 11-12 November 2023 and the location is Kistamässan, Stockholm. In addition to visiting the exhibitors' stands, the weekend is a meeting place for the pet sector in northern Europe and a place for pet trade professionals listen to interesting talks and network.

BOOK NOW!
The available monter space has sold at record speed and is currently 90% booked. For booth and cost proposals, contact us at zoorfexpo@zoorf.org We expect to sell out all available space.

WHO HAS ALREADY BOOKED?
Registered exhibitors so far: Essential Foods, Aristo OY/RAUH!, Eldorado A/S, Seleverkstedet, Gibbon Agrobiothers AB, Snellman AB/Mush Sverige AB/ Raw for Paw AB, Doggy AB/Bozita, Svenska Djurapoteket, K9 Competition AB, Non-Stop Dogwear AB, Oase GmbH, Buddy PetFoods AB, Trixie AB, PetCare, Pondusfoder AB, L-Fashion Group Oy, Imazo AB, Hills, Spannfod, Beaphar Sverige, Nordic PetBrands, Lupus AB, GOTO Sportwear, GoodStuffK9, PetGood, Euroda AB, VetExpert, Ekholm Vision AB, Hugo & Celine, Baggen, Globus Sport AB, Vom og Hundemat, Pritax, Bia och Gustaf & Evita, JanPol, PeeWee Sweden, GA Petfood Partners, Kissapuu, Tree of Pets, Alac, VIP Dogwear, Barkalot, Akudim A/S, Nestlé Sverige AB, Woolf och Nextmune.

IN SHORT:
When: 11-12 November
Where: Kistamässan, Stockholm, Sweden
Why: Meet the Scandinavian pet trade
Who: The Swedish pet trade organization ZOORF is the organizer

CONTACT:
More information on zoorf.org/zoorfexpo/ or call +46702480111
This is how the stand map looked like in 2021 for your orientation and wishes: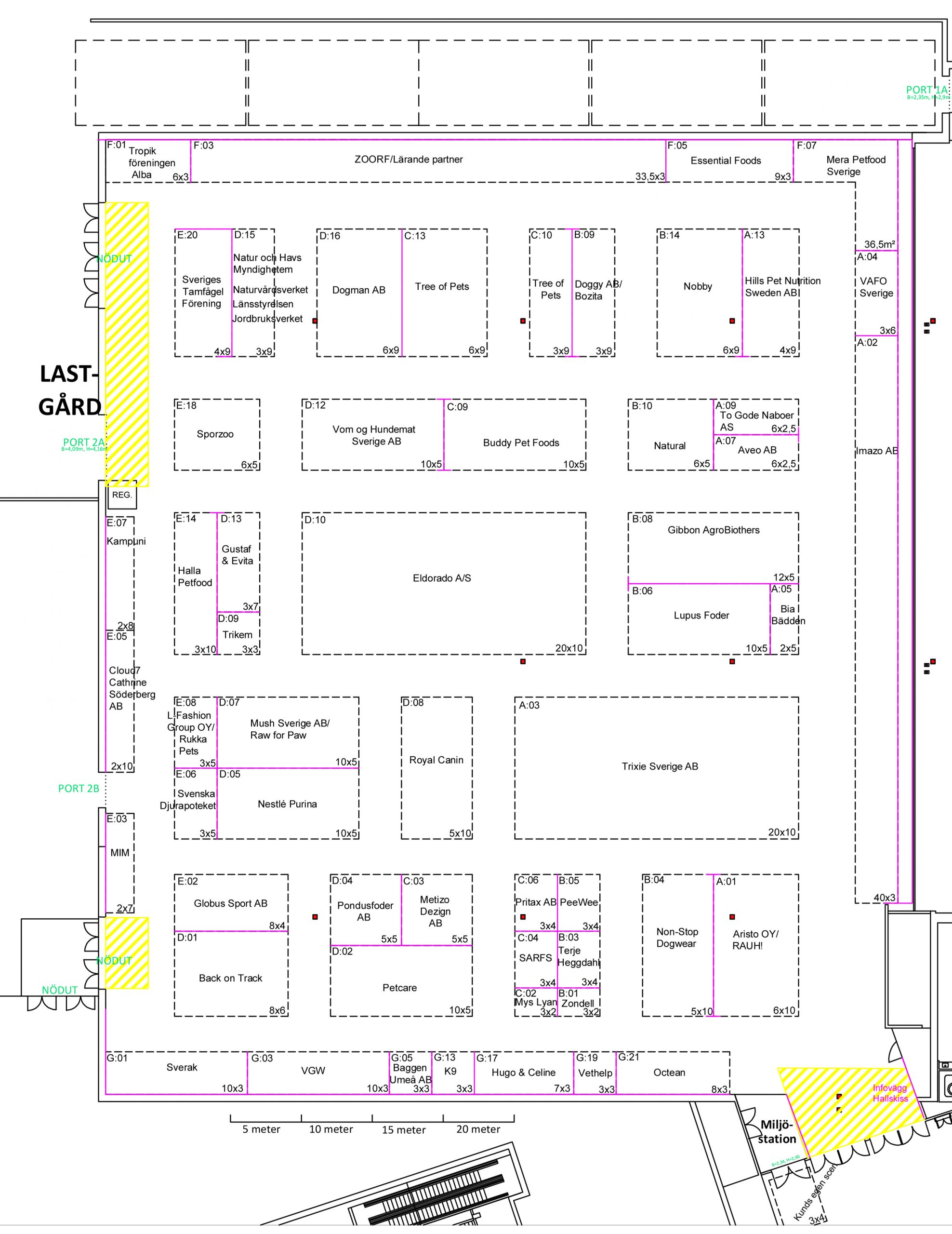 ZoorfExpo 2021

Despite all the troubles with covid-19, ZoorfExpo 2021 could go ahead as planned, and all available monter space was sold out. The number of exhibitioners was somewhat lower than 2019, 54 compared to just over 60, but that was mainly because many international companies could not come. The companies that did come, in general, booked larger monters instead. The monters were spacious and open, and most exhibitioners had abandoned the old school of building a store in the monter, instead they presented concepts and a selection of products.
The weekend started on Friday with a day of talks and lectures for those who had registered for it, and then the fair was held over a Saturday and Sunday, with a big dinner and party on Saturday.
In total 1070 individual entrées were registered, which is a new record for ZoorfExpo.
The companies with monters at ZoorfExpo 2021 were:

Vom og Hundemat Sverige AB, Aristo OY/RAUH!, Essential Foods, Doggy AB/Bozita, Gustaf & Evita Scandinavia AB, Nestlé Purina, Kampuni AB, L-Fashion Group Oy/Rukka Pets, Snellman AB/Mush Sverige AB/Raw for Paw, Hill's Pet Nutrition Sweden AB, Cloud7/Catherine Söderberg AB, Nop-Stop dogwear, Eldorado A/S, Gibbon Agrobiothers AB, Lupus Foder AB, Metizo Dezign AB, Trixie Sverige AB, PeeWee Sweden, Buddy Pet Food, Imazo AB, Globus Sport AB, Mera PetFood Sverige, Royal Canin Sverige AB, Biabädden AB, Natural, Nobby Petshop, Svenska Djurapoteket, Tropikföreningen Alba, Aveo AB, Zondell/Sonnäng Consult & Design AB, VAFO Sverige, Tree of Pets, Sverak, Dogman AB, To gode Naboer, Spannfod AB, Petcare AB, Halla PetFood AB, Trikem AB, Pritax, Octean, VetHelp Northern Europe, Back on Track AB, Mim Construction AB, Butiksled.se, K9 Competition AB, Pondusfoder AB, VGW/Pet Design Sweden AB, Sveriges Tamfågelförening, Hugo&Celine, SARF, Naturvårdsverket, Havs- och Vattenmyndigheten, Länsstyrelsen Stockholm, Lärande i Sverige, Etologerna.se
Listen to exhibitors on ZoorfExpo 2021
---